95 за 1 год
50 за 1 год
Призовые за карьеру
45 за 1 год
Roles and LanesFrom Recently Analyzed Matches
96% Off Lane
2% Safe Lane
0% Mid Lane
94% Safe Lane
Most Played HeroesAll Time
3,870 Arbitrary PointsRecent Achievements
Activitylast 3 months
Lifetime StatsAll Time
58% Mid Lane
32% Safe Lane
10% Off Lane
50% Safe Lane
40% Off Lane
5% Mid Lane
4,395 Arbitrary PointsRecent Achievements
Roles and LanesWith TrueSight
66% Safe Lane
17% Off Lane
1% Mid Lane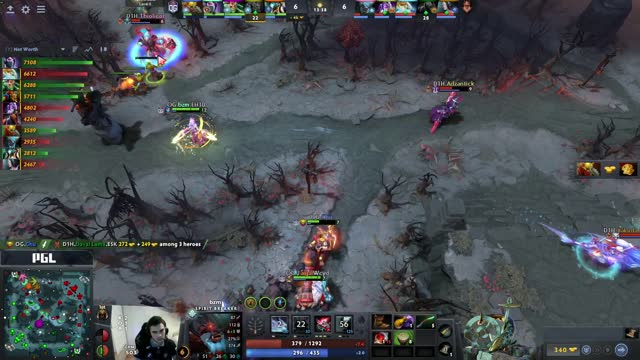 DPC 2023 WEU Summer Tour Division I – presented by PGL
Chu gets a double kill!
2 months ago
Chu kills Davai Lama!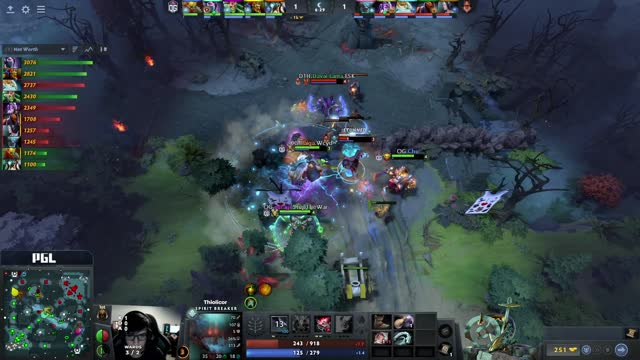 Chu kills SG. Thiolicor!
View Pub Profile
22 апреля, 11:17
Евгений «Chuvash» Макаров пропустит ESL One Berlin Major.
Огромный розыгрыш к патчу в нашей телеге! Dragonclaw Hook и куча аркан уже ждут
OG выступит на Берлинском мейджоре без своего саппорта.
«Я не еду в Германию, у меня нет визы. Приходим мы первый раз в посольство, говорим: «Можно у вас сделать визу?» Говорят: «Записывайтесь, мы с вами разговаривать не будем, пошли вон». Мы узнали, что есть визовый центр. И вот туда уже пошли со всеми бумажками, все у нас готово по высшему разряду. В бюрократии я готов закидать их с ног до головы. Но они говорят: «Вам нельзя делать визу, потому что у вас резиденция меньше шести месяцев, и вам нужно получить специальное разрешение. Вот вам сайт, вот номер телефона».
Аппоинтменты все уже разобрали. В итоге мы не успели сделать эту бумажку и не можем сделать аппоинт, потому что следующий доступный уже был где-то 27-го числа. Никаких подвязочек нет, и организация в этом нам тоже помочь не может. Станем умнее с этим. Начали работать с ребятами из СНГ-организаций, которые разбираются в этом деле: с Гуниной мы пересекались, у ДКЛаны спрашивали много чего. Вот так вот вышло, что нас немецкое посольство опрокинуло», – заявил игрок в рамках подкаста «KD ALL IN».
Valve выпустила «Новые горизонты» – патч 7.33 для Dota 2. Карта стала на 40% больше, появились парные порталы, пруды лотосов, Терзатели и Смотрители. Также Valve добавила в Доту второй рошпит, 7 новых предметов и 2 руны.
Патч 7.33 в Доте – все изменения тут. Самое масштабное обновление с 7.00!
Самый важный апдейт 7.33 – карта. Собрали все изменения в одном посте
Заряд позитива с Яной Медведевой.
OG в новом сезоне незаметно стала практически СНГ-командой: Misha в качестве капитана, Yuragi на керри. Последним дополнением к составу стал тренер – еще один игрок из СНГ-региона Евгений «Chuvash» (или же просто Chu) Макаров. После того, как Женя получил визу в Испанию, мы созвонились с ним, чтобы обсудить:
– Ты наконец-то получил визу. Уже присоединился к команде или все еще laptop coaching?
– У нас изначально был план собраться после январских праздников, где-то 3-4 числа. Но решили, что по расписанию и личному комфорту нам гораздо удобнее будет доиграть сезон из дома.
А коачинг через ноутбук – это был единичный случай, когда мне нужно было получать визу в Испанию. Я поехал в Москву, купил ноутбук и просто сидел в отеле с вай-фаем и немножко страдал! Но из дома все комфортно.
– Два месяца назад ты выиграл D2CL вместе с Creepwave. А теперь ты – тренер OG. Как так получилось?
– В межсезонье у нас были хорошие результаты, все были довольны друг другом, мы – маленькая счастливая семья. И, разумеется, взгляд некоторых команд упал на Аммара и на bzm. А нашей команде, грубо говоря, предложить в ответ нечего. У нас тогда были пару офферов из организаций, но несерьезные. В итоге молодежь потянулась за именами и более серьезными клубами.
Начались шаффлы после TI, появились первые новости. Мы поддерживали контакт с командой, чатились в дискорде, играли вместе MM-ы. Аммару и bzm начали приходить офферы из больших команд и в один момент стало ясно, что игроков Creepwave ждут перемены.
Ребятам пришел инвайт от OG. Сначала Аммару – он согласился. И его можно понять, так что тут никаких обид. У OG было несколько кандидатов на роль мидера, и одним из них оказался bzm. Скорее всего, никаких тестов не было. They just talked with Misha, liked each other — and bzm was also taken into their own hands.
I was initially very upset. They stole my players! What will I do now? But then Misha sat down, thought for a while and said to the guys: "The coach will not be superfluous. What kind of candidates do we have? And Misha and I have been in close contact for the last two years — we spend almost every day together, so his choice was obvious. And as a bonus, I played with two players for about two months, I knew them well, they knew me well. So I also ended up in OG.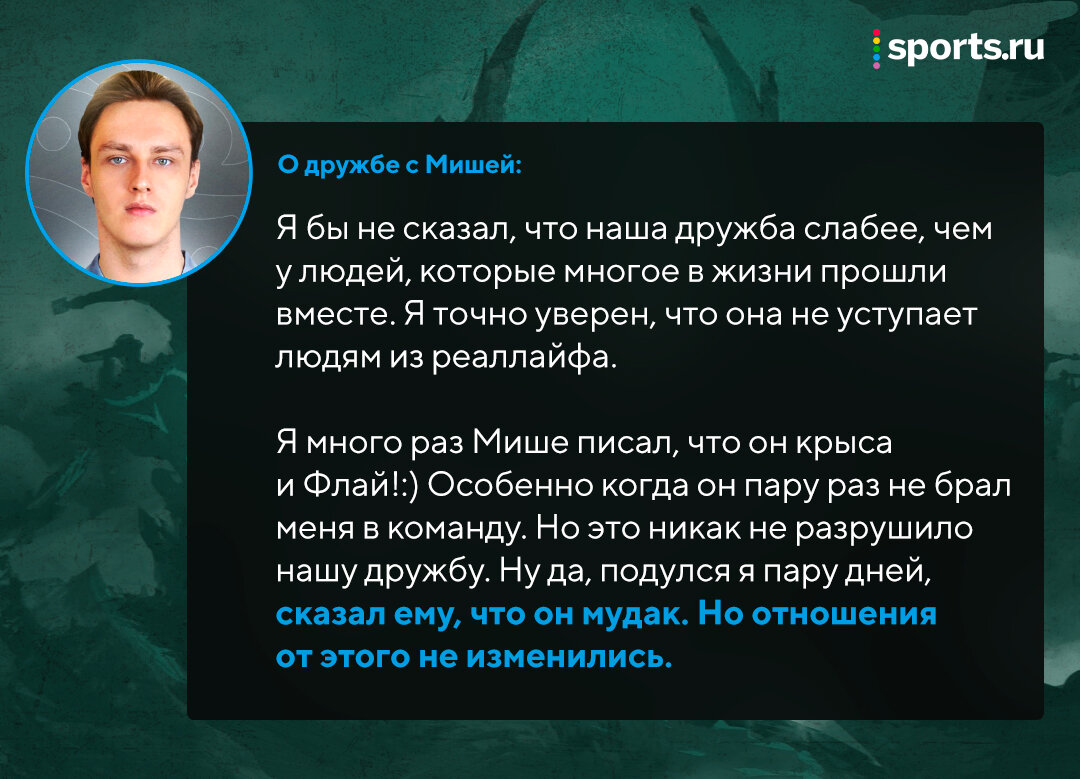 — And how did your such strong friendship with Misha develop? Where did it start?
— It started from the time of the Comanche, about 6 years ago We were the same age, played in the same team and just enjoyed life. Simply because we liked each other — wonderful people.
Of course, the cornerstone of our friendship is Dota. We are engaged in one thing, and all these 6 years we have supported each other. I had good moments — and I could tell him something about Dota or in other aspects of life. The same from him. And throughout all these 6 years we have been in touch.
– Have you ever packed a backpack and come to visit him?
– No, there was no such thing. Just recently I was in Moscow for two days to get a visa. And, of course, we met on the first day. But we do not have such an urgent need to give a fraternal high five. And I would not say that our friendship is weaker than that of people who have gone through a lot in life together. I am sure that she is not inferior to people from reallife.
Russian OG coach played in Anji
– Notale and Fly were also good friends. Aren't you afraid that Dota might destroy your friendship at some point?
— I wrote Misha many times that he is a rat and Fly! 🙂 Especially when he did not take me to the team a couple of times. But that didn't ruin our friendship. Well, yes, I sulked for a couple of days, told him that he was an asshole. But the relationship hasn't changed. After all, in his decision there is some sense and some reason.
Yes, and Igor kicked me from the team. Oh please!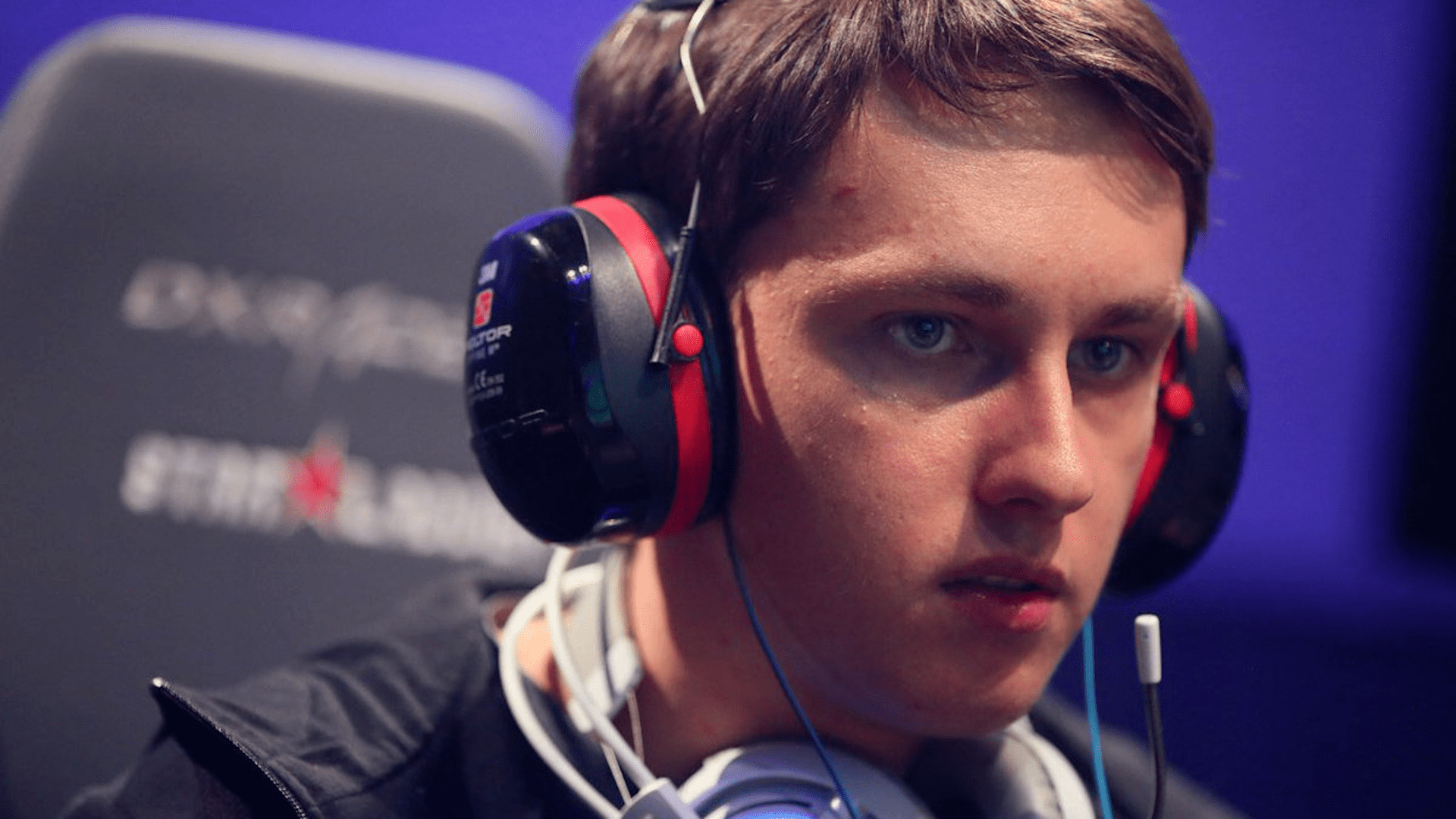 — I remember how during our first interview you told how Mag and Arszik differ as coaches. That someone is more about support, and someone about training and statistics. What kind of coach are you?
– I would say that I am close with all my players. I get along well with each of them. Maybe not best friends forever, but we respect each other's opinions and share them all the time.
My main job now is drafting. I am Misha's right hand. I am also involved in preparing replays, moments and thoughts for discussion. And if I have good preparation, strategies and drafts, then I will not need to become a support coach! Then they will do everything themselves. Well, I'm not very good at reading motivational speeches.
– Have you already implemented some of your ideas?
– Of course there is, but we will keep it a secret! Roughly speaking, for 70% of drafts, you can scold me and Misha if everything is bad.
How do new OGs play Dota? Dyakonov studied: very similar to the best composition
— Seb, when he was just starting his coaching career, studied a lot, read, asked questions. How do you transition to this role?
– I haven't reached such an advanced level as Seb's yet. I'm not even a match for him in terms of coaching. This is one of the smartest people in Dota, perhaps in the entire history of the game. I'm not trying to suck up right now. You just listen to it for five minutes and wow! So I'm not even close to him. And I don't plan to switch to coaching literature yet — I still have a bunch of Dota cases that need to be completed.
— For you, coaching is a small transitional period and an opportunity to sit out, or do you take it with full seriousness and dedication?
– Of course, I always take all aspects of Dota seriously. But it's not like I'm trying to be the coach from the movie. And now we don't need it. Now we need the team to be able to play Dota comfortably.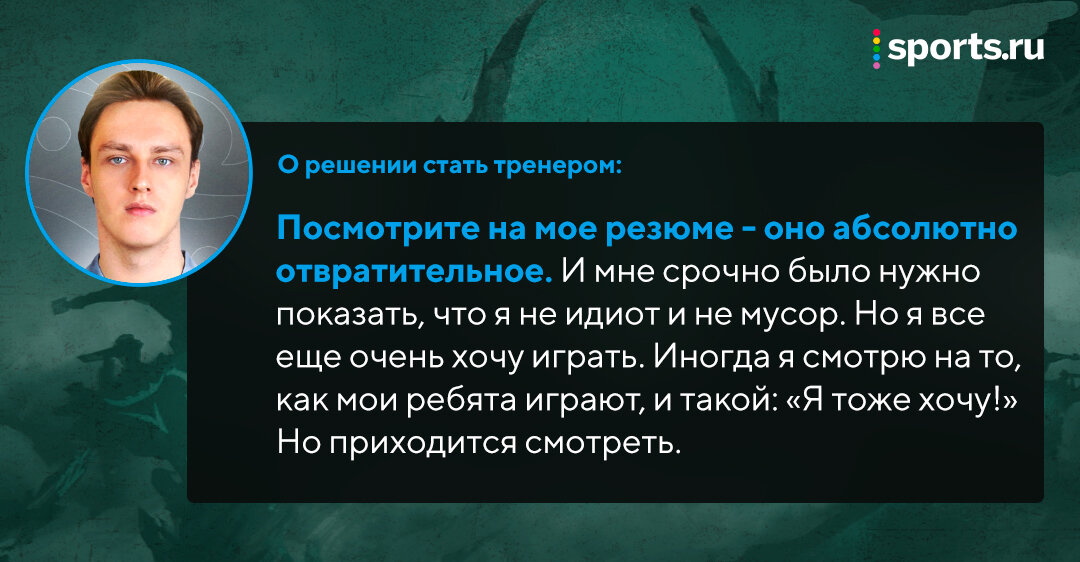 — What do you think the team needs now for this?
— We need to help them with the theory of team Dota. The team is new, almost everyone played in different lineups, doing different things. And you need to help them become a team. Not mentally, but like in Dota.
— Do you communicate with the older generation of OG?
— I can't say that we communicate directly. But sometimes they visit us and give us some ideas. Taiga recently went to Noteil's house with us — and he received him very warmly there. I won't say that we are best friends, but they keep in touch with us. They are like senior comrades for us and sometimes help us.
10 Famous Dot Players Who Didn't Win $40,000 During Their Career. One has only $700
— Do you have the opportunity, if necessary, to simply turn to Seb or Notale for advice or opinion?
— Yes, but I'm still managing on my own.
And I haven't had personal conversations with them yet. Mostly Misha and Taiga communicate with them. Misha is with Seb, and Taiga is with Notale. And through them they have already brought us a couple of ideas about Dota, but we haven't shown them yet.
— Was it easy for you to say «yes» to the opportunity to become a coach and turn down the opportunity to continue your career as a player right now?
— It was easy for me this season. Look at my resume — it's absolutely disgusting. And I urgently needed to show that I was not an idiot and not trash. But I still really want to play. Sometimes I look at how my guys play and I'm like, «I want it too!» But you have to look.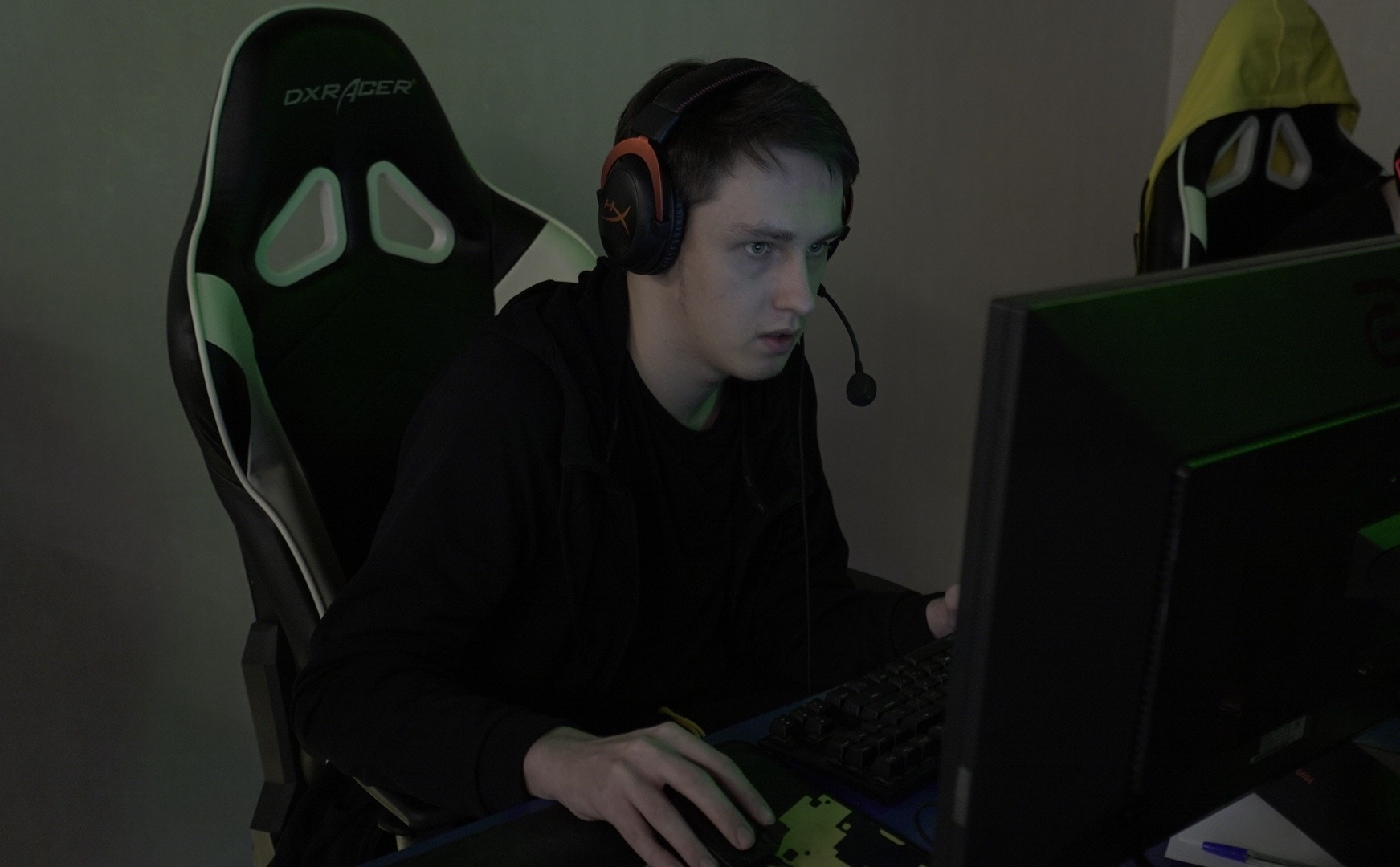 – Why do you have to? You could well refuse and look for a team.
– But would I find a team? Here is the question. Okay, I would find a team, but would it be that strong? Most likely no.
— Is it more valuable for you to sit behind the players in OG than to play yourself, but somewhere in the second division?
— Misha was a fan of OG, watched their matches, analyzed them. Were you a fan of them?
— That's the point that we did it together! Well, or the three of us with Igor. The main fanatics of OG are me, Igor and Misha. You won't find bigger fanatics on planet Earth than we are.
We have found all 275 world champions by the "Vilat method"!
— What do you like so much about OG?
— They are like people — it's just Dota-gold. You look at them, you look at other people, and you think, "Notheil, what a handsome man you are!" And the same goes for Seb, Topson, Ana and Jeraks. These are the legends of their time.
And in terms of understanding Dota, they also shine. And these two factors have developed — and nothing more can be done. You are already an OG fan.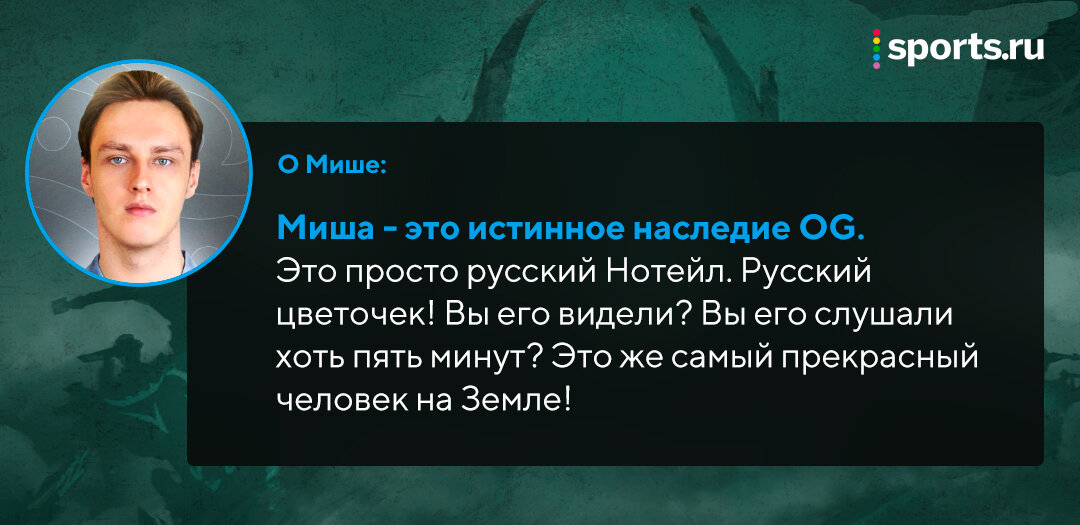 — Speaking of Dota, what turns you on so much in their game?
– It all started with True Sight. You listen to their thoughts, how they talk, how they play the game. Have you seen anyone doing the same tricks with summoners as Notale? I don't see this every day. Just a bunch of little beautiful moments. And their very attitude to Dota, their approach to the game is unique.
— Do you want to follow the same path and be the same team in the new OG?
– Of course, we want to build our own. But in order to build your own, it's not a shame to steal the best they had.
— Do you like OG's ideology of friendship, family and such a flowery mood?
— I like it, but I'm not one of those who can create this atmosphere 100%.
Namely, Misha is the true legacy of OG in this regard. It's just Russian Notail. Russian flower! Have you seen him? Have you listened to it for at least five minutes? This is the most beautiful person on earth!
– What about the rest of the team?
— In this regard, I can give a brief description of my teammates.
How the new OG offlaner plays in Dota: he is a selfish finisher and loves Sataniki
And Ammar seemed to have been born to defeat him. Not to say that he follows in the footsteps of the Collapse, but this is the most brilliant person I have seen in recent times. He has his own unique take on Dota. And he is very close to me. I understand what he's talking about, he doesn't use complex terms. He's just GIGACHAD Dota.
Well, in parallel, he remains a child. So those on whom he dropped the robes: don't get mad, guys! It's fun to do! We also dropped robes at Creepwave. He started it there. I do not see anything criminal in this!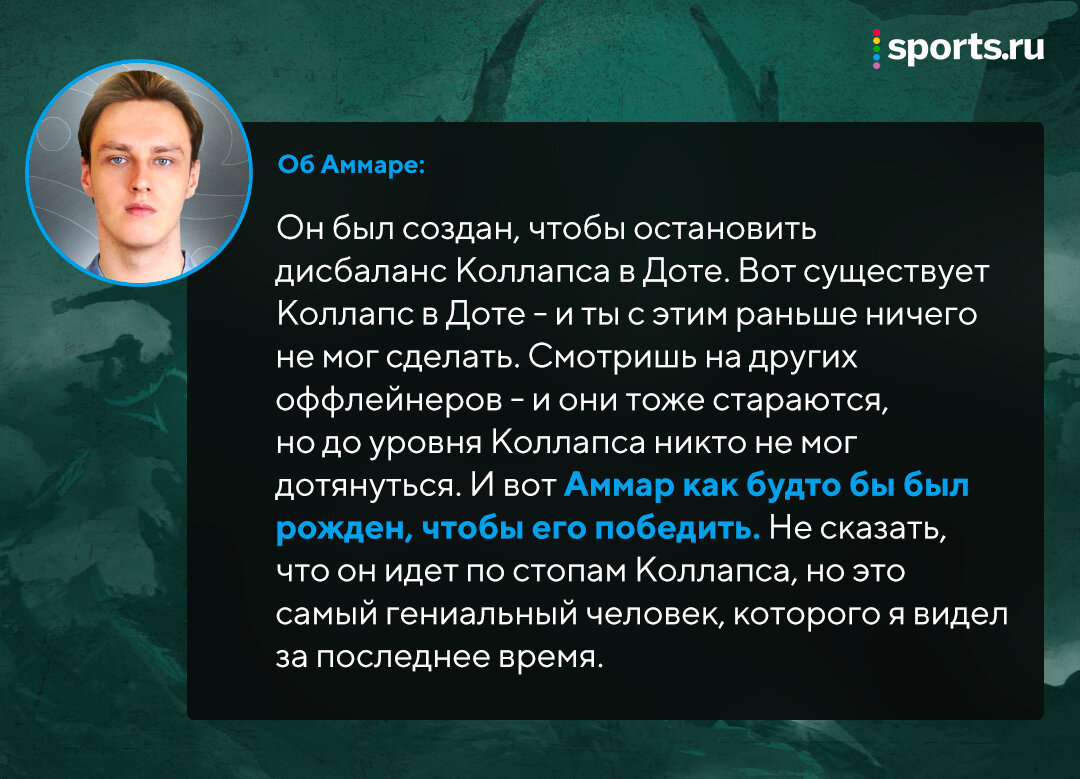 Bzm – humble boy. He is always calm, nothing superfluous, no fuss. It just quietly does its job. Sometimes it's not quiet, of course. But he is not such a crazy savage as Ammar. When I first saw him play (back in Creepwave), I immediately said: "well, everything will be fine with us!"
Space is somewhat similar to bzm. He's like Yatoro — he just does his job and does it well. And you don't need more. I had seen him a little before with Unique because we played against them a lot in the off-season. But Unique's results were so-so, so it was difficult to form an opinion about the player. But I was very pleasantly surprised when I saw Space in person. He is a very reliable person with his ideas.
Taiga is a big veteran of Dota. It was also evident from Liquid that he does not drop out of the games. This is a player with his own vision, a smart guy who has thoughts ahead, and then pens. He is the kindest soul person. If you've heard why he left Liquid, you'll understand. This story speaks for him.
Well, Misha is the gold of Dota. Calm down, haters.
I recently got the idea that we were received very coldly in the CIS. I can understand them, because it is not clear who they are. But I got a little upset. Guys, you didn't even give us a chance. You just pissed us off. See what we can do first! And now that things are going well for us, what will you do?
OG trolled Nygma under the fountain. Is this normal behavior?
– Is it convenient for you to communicate in English?
– I already had a similar experience two years ago, when by a strange coincidence I ended up in the SEA region for two weeks. And then it was very hard. I sat down like, "Oh, English is already too much! Tie up.» And from that time on, I didn't actively study, but gradually improved my skills. Either you watch some content in English, then you talk with native speakers. So now there is no discomfort.
The rest of the guys are fine too. I would even say that I have the lowest level of English in the team. But it is acceptable for explaining Dota to people. It is clear that in a personal conversation I will sound like a six-year-old child, because I will pick up familiar simple synonyms.
— Do you have a lot of communication outside of Dota?
— Such topics slip through, but the main backbone is Dota.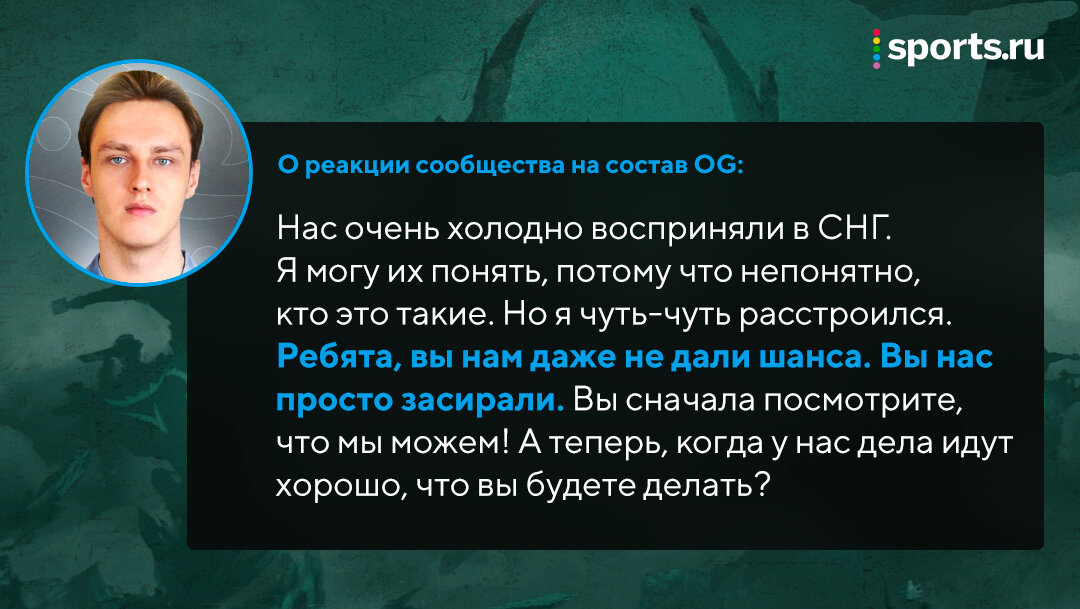 — In one of your old interviews, you said that young players have problems with socialization, with the ability to communicate. Now you have a whole team of young people — how are they with this?
— They are all right. Sometimes someone can choose the words a little differently than you would like to hear it. It is about the form of expression of thought. But there are no problems. All the guys are open, everyone calmly communicates with each other — no tricks.
– Are you and the guys so lucky or has something changed?
– Honestly, I have no idea what has changed. But it seems to me that this is more a history of matchmaking. Sometimes it's just impossible to play there if you don't muddy the person. And in the team, I have not encountered this for a long time.
— As a coach, do you continue to roll pubs and enjoy the game?
— Varies from day to day. In general, I am happy to play Dota any day of the week. But sometimes there are days when I get up at 11-12 in the morning and I have to do team business: prepare for the next opponent or see what we did yesterday. And sometimes because of this, there is not enough time for pubs.
Who is the leader in Dota in all respects for the year? Nightfall is the best in KDA, PSG guys won the most maps
— Are you sad that there is less opportunity to play Dota?
– Not a bit! Lately, the heart has not been in matchmaking at all. Sometimes you play right through the pain. But sometimes the most pleasant games come across.
– Should a coach play Dota?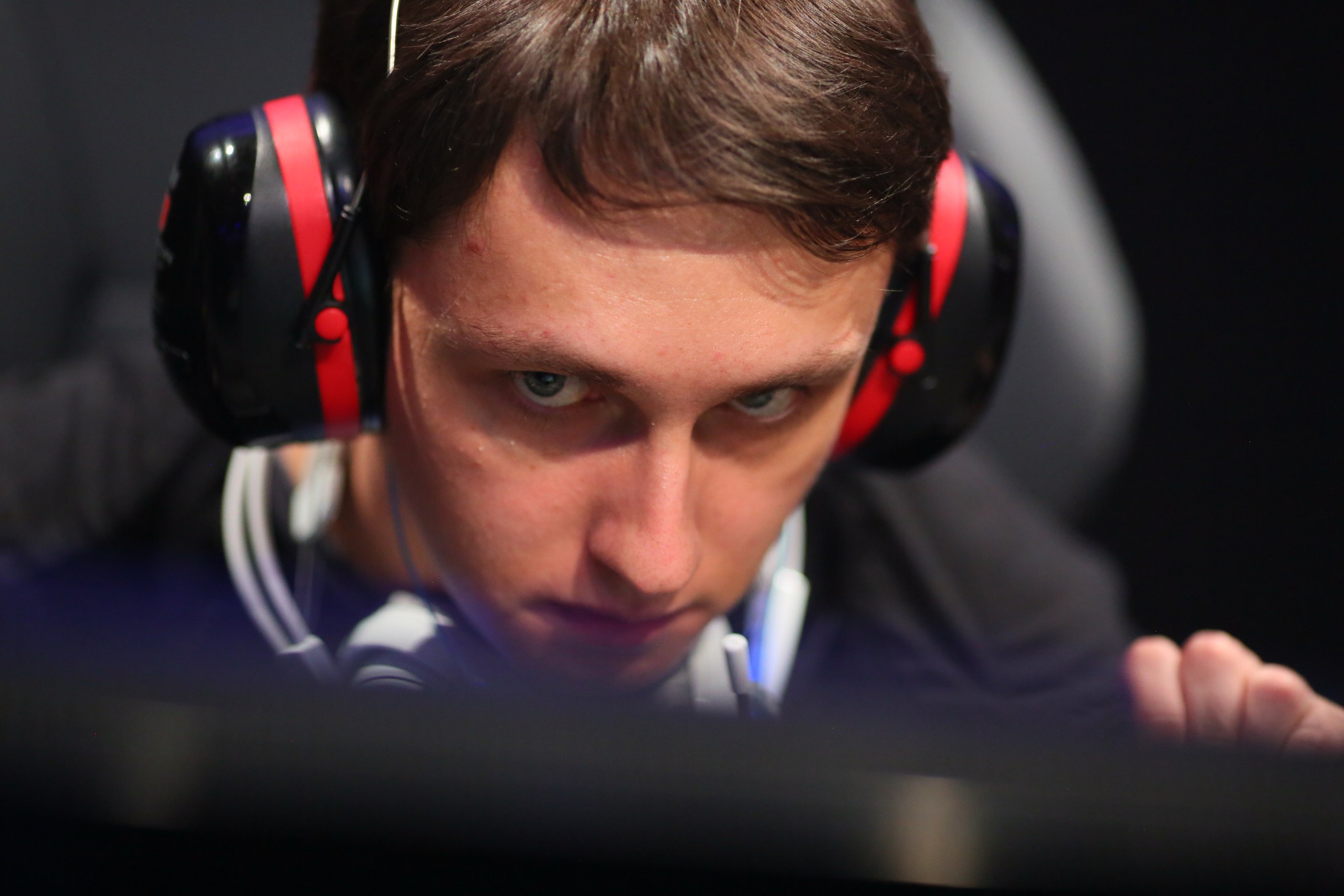 – Team affairs, preparation. But what about personal life?
— Yes, I would be glad to meet someone, but everything is unlucky.
– And what qualities do you like in a girl? What should be the girl to please you?
— Calm, we should have common interests (Dota, for example), and she should be independent and with her own plans for life. So write anytime!
– What result of your coaching will you consider successful?
— Second place in the DPC. Then show a more or less acceptable result in a major. To prevent us from being crushed to smithereens like, for example, VP at the majors. Just getting stronger every day.
If the Major were tomorrow, what happens in DPC leagues? China hasn't even started yet
— This is a team. And for you personally, what would be success now and after?
— Show an acceptable result with this team before the end of the year. And someday return to the role of the player and show that there is still gunpowder in the flasks.
– Will you be happy if you win TI as a coach? Or is this not enough?
– I haven't thought about it yet. But in part, yes, I will be satisfied. Because I won't have any remorse for not doing anything. Because I do. I am working. I help them. I influence the game. I will feel like I had a hand. But, of course, this is a little different. It is much more pleasant to win with your hands.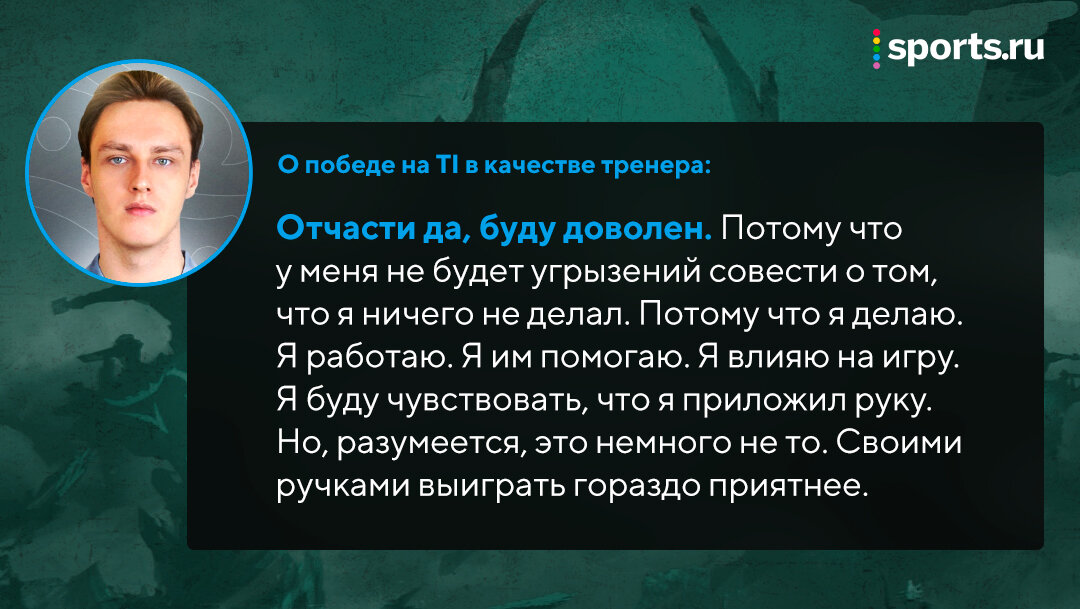 — When I was preparing for an interview with you last time, you were still playing in NAVI. Now you are in OG. And you yourself said that these are two such peak points of your career. I want to talk to you about what happened between them and what changes happened to you. When you left NAVI, you took a break. What did you do?
— To be honest, this break was unplanned. I didn't want to take it. It just so happened that I couldn't find a team I wanted to play with. Yes, and the mental state was also the same — this is not a very pleasant segment of life. Not to say that some kind of deep depression, but in the mornings I didn't really want to get up and do something.
I don't remember what I did. Probably just playing some random game. Perhaps with Igor. Just lived a life. I skipped the day and waited for the next day. And waited for something to change.
— Were you waiting for invites to other teams? Or what changes are you waiting for?
– Most likely, I was waiting for an invite. But he did not come and did not come. And it also decomposed me on a mental level. I remember that I could not get myself together for a long time. My thoughts then were: "Is this really the end? Will I be remembered that way?» And I mentally went to the factory.
Remember Comanche? Our blogger interviewed the founder — about money, mistakes and leaving the squad for Anji
— It's really strange. You played in NAVI, you weren't the worst player there.
— For me, this was the main problem! I felt adequate in Dota then, I would even say that it was good. But no one appreciated it. Well, what to do.
At that moment in my life, I was resurrected by the fact that party-matchmaking was added to Dota. And I just played in a party with pro-players from the CIS, with the guys from the current Liquid. And then you play with them, listen, and they say: "here you are done well." And that gave me an incentive to keep playing.
— You were a person who always asked for test teams. You ended up in the Empire, and in Navi. During this period of calm, did you not write to someone?
— I don't remember exactly, but most likely, I did some steps for sure. But that's how the stars lined up. I wasn't a super grind back then, but I had a red rank. So most likely I wrote to someone.
— Do you just calmly write to ask for a team?
– And what will change in my life if I get a negative answer? Never mind! I will also wake up tomorrow and live.
– What about self-esteem and self-awareness?
— Imagine how my self-esteem can jump if I get into the team? You asked for a test, played — and you were taken into the squad instead of those candidates who were chosen in advance. Is this not a success?
Feature from Chuvash: turned the death of an ally into a deny
— How did this sudden invite to the Asian team come about?
– Either Milan or Forev joined me. He says that they are collecting a composition for T1. And I have nothing to lose. Mom was shocked! "Where are you going anyway? Fool or what? And I tell her: "everything is under control!" But there was nothing under control, I must confess. Because the team was made hastily, for one qualification. And it is logical that after them it broke up.
– You just packed your suitcase and left. Where?
– To Singapore. They wrote to me a week or two before qualifying. We didn't play a single HF, no tests. Just a couple of conversations. The situation was such that if we didn't get caught in the qualifications, then nothing would come of it. We haven't done any team work.
– Are you a fan of such adventures? Was it a positive experience for you?
– Positive experiences are greater than negative ones. Yes, I lost qualifiers. But I just materialized out of nowhere in Singapore. Who even expected this? Personally, I don't. And listening to non-CIS-Dota people is also very interesting. I won't say that it's super useful, rather, it's just curious.
— Did you return home already with some offers or again nowhere?
— Already about a week later I was called to the team by Stasyan and Vanskor. I thought that big invites do not loom on my horizon, so let's go.
– You spent a lot of time with the Gentlemen, but for many, this line-up was remembered not by the results, but by the history with the Forzas and the hair dryer. What do you remember about this team?
– I had no particular complaints about Forza. But I would not say that this is an organization from people for people. But in general, I treat all the guys well and the impressions from the composition were only positive. We had a good time together, we had a cool Moscow bootcamp, and the minor itself was not bad.
But I just realized at one moment that this is our ceiling, and it can no longer be overcome. A month and a half after the minor, I realized that nothing would change, it was inevitable. And so I poured myself out of the squad.
— Was it a team ceiling or your personal ceiling in this team?
— Both team and personal. I couldn't influence anything else.
— After you were invited to HR. Why didn't you join the squad?
– That year I started having problems in my life. And then there was something like depression. Then I didn't want to get out of bed at all. I just went with the flow. I thought that now I'll try something, I'll do something, I'll try somehow. But it's all blah blah blah. We didn't get any results. And there were no prerequisites for us to succeed either. So they just took me out.
— Did you then take a break just because of the depression?
— Yes. It took a little time to fix problems in real life. I even played Dota intermittently. Somewhere in the beginning of autumn I played a little, but by the end of autumn I already had a solid list of games.
And this break made me miss Dota. Matchmaking can be a nasty joke, but competitive Dota is an absolutely wonderful thing. I can't even find the right words. Guys, you would know how nice it is when what you put effort into really works! And it's better than your competitors. This is the most pleasant feeling on the planet!
EXTREMUM teamfights are like a Swiss watch – zero mistakes, even in lost maps
— As far as I remember, EXTREMUM at the beginning of the DPC season was your only offer. Did you like that line-up or did you go because you have to go somewhere?
– Yes, I liked this team. And I was very surprised by the Year. Nothing is heard about him at all, and I myself met him two or three times in my life. I was surprised how hard he tries, how his understanding and his ideas work. And after the first games, I said «let's go!»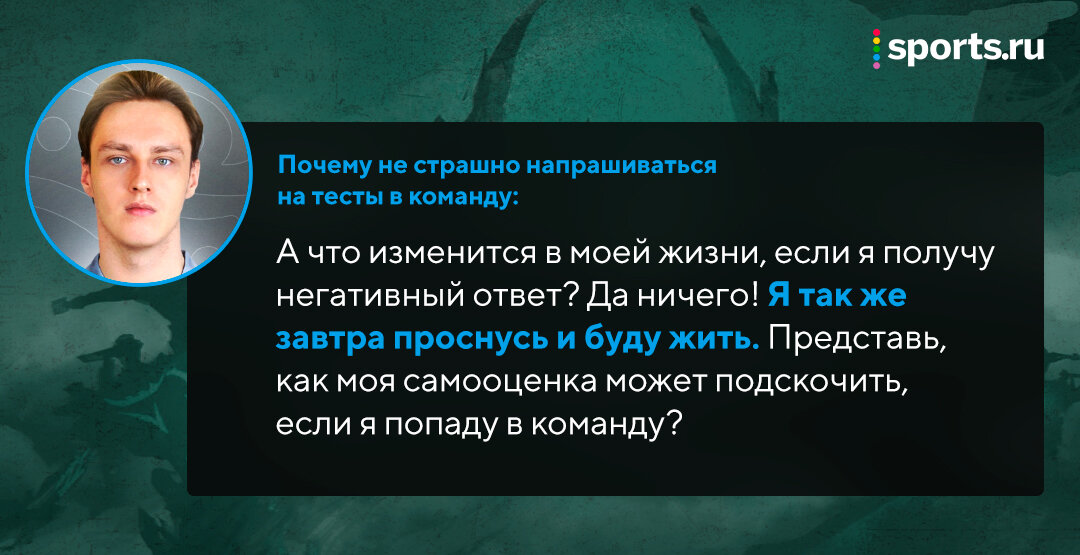 — When we talked at the beginning of the season, you were quite critical about your personal form. After he named low personal skill as one of the reasons for the team's failures. But while playing in NAVI, you were called almost the best four in the CIS. What's happened?
— I didn't have any problems at Spartak. I played well, my hands were untied. And in the minor I got in great shape!
In EXTREMUM at first I didn't have any big problems either. And then the patch changed — and I fell into some kind of hole. I just grew claws instead of hands. When the second season of the DPC was on, where we played 0-7, I was reviewing my games — and it hurt me to see it.
– What to do in such a situation?
— I was just trying to get back in shape. If I succeeded before, I need to remember why it happened, how it happened, what I thought about. I was just trying to return to an adequate dota state.
But I would not say that this is a psychological problem. This is precisely the problem of understanding Dota. It disappeared somewhere and I had to look for it somewhere. As you can see, I found it!
– From this path, what periods would you call the most positive and the most negative?
— Spartak was quite positive. We won something somewhere, we were a more or less competitive squad. Yes, and just having a good time!
And the most negative thing is the off-season after Spartak. Worst eight months of my life.
— Chuvash in Navi and Chuvash now. What are the main differences between these two guys?
– To be honest, I have matured noticeably. There was practically no difference between me at 18 and at 21. And now it's a completely different person.
I found inner harmony. I have a great life now. I am confident in what I do, I am confident in myself. I'm sure I'm not an idiot. I don't have any pens in life and I'm having a great time outside of Dota. I don't have an internal conflict with myself when you sit at the computer after finishing work and thoughts flash through your head: "Well, why are you sitting there? We should be doing something cooler!" I know that what I'm doing is normal.
What else do you need? I have Dota and life, and I came to this life on my own. And isn't it wonderful?
«Do I look like a drug addict now?» Dendi wrote an open letter why he won't give up
How we won Int. Miposhka's open letter
Teams played by Chu
The best heroes of patch 7.34. On whom to raise MMR in Dota 2 after the update?
Imba patch 7.34 on each role.
Indicators
Main heroes (win percentage)
Achievements
DPC WEU. Division I Tour 3DPC Western Europe. Division I Tour 3DreamLeague. Season 19DreamLeague Season 19DPC WEU. Division I Tour 2DPC Western Europe. Division I Tour 2
Biography
Chu — Evgenii Makarov is a professional Dota 2 player, currently a member of the OG team.
Heroes / in 1 year
Keeper of the Light
Team history
06/06/2018 — 09/06/201809/07/2018 — 04/24/201909/12/2021 — 03/06/2023