Ranks, like the MMR rating, show the level of a particular Dota 2 player. Thanks to the ranks, other players are selected in a competitive mode (game by rating).
Dota 2 patch 7.33 brought a new matchmaking system and recalibration games. Many players struggle to understand where they are on the current ladder or how much MMR they need to rank up. Here's the chart to check your status.
Biggest bugs and abuses of Dota 2 patch 7.33
Calibration will no longer have a fixed number of matches (it used to be 10).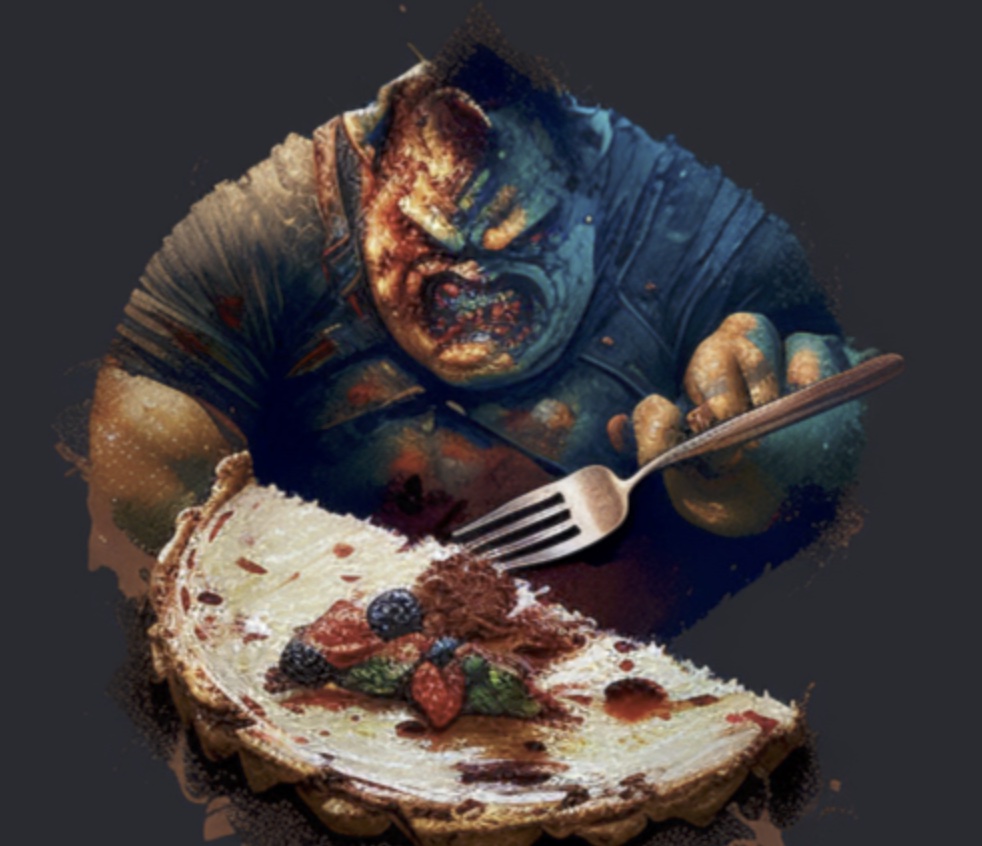 The new Dota 2 account calibration system is based on the Glisko method (as in CS:GO), and not on ELO. Briefly, it looks like this:
20-25 MMR

for victory or defeat

You could recalibrate your account once every 365 days
Recalibration 10 matches
The calculation of the Glicko rating will be based on two parameters: this is your current or past rank and the level of confidence of the system
in your rating.
That is, calibration can now take longer (instead of 10 games, eg 20) until the confidence level is sufficient.
There will be no fixed MMR step for a win or loss, but there are limits.
The more matches you play in a period of time, the less the rate changes.
If you haven't played for a long time, then you will get more ratings for a victory, as well as take off for defeats.
Dota 2 has a ranked mode that allows players to track their MOBA progress. He also motivates fans to keep going to Dota by adding a competitive spirit to the matches. We have prepared a Dota 2 leaderboard to let you know how much MMR is left until the next rank in 2023.
New Dota 2 map in patch 7.33: all objects and changes
All map changes patch 7.33.
There are eight ranks in total in Dota 2: "Recruit" (Herald), "Guardian" (Guardian), "Knight" (Crusader), "Hero" (Archon), "Legend" (Legend), "Lord" (Ancient), «Deity» (Divine) and «Titan» (Immortal). Each of them is divided into five parts in the rating table. There is no exact data on how much MMR is needed to increase, so all numbers in the rating table are approximate. They differ due to the average level of players in Dota 2. Also, the new rating of Dota 2 is affected by «Ranking Confidence».
It's been almost 9 years since Dota 2 was released by Valve. However, the amount of players and competitive structure of Dota 2 still maintains the excitement and number of the first day. Even though some players have won a few matches and left, we can say that hundreds of thousands of players are still trying to rise in the ranked system. That's exactly why we're going to review Dota 2 ranks for you today.
As we are used to in most competitive games, Dota 2 has a skill system. The rough road to Immortal with dozens of heroes is part of this skill system. If you play the game well or can make strategic moves, then your job is easier.
However, if you are a new player to Dota 2, ranking up is not that easy. First of all, we would like to say that you must have a couple of solid choices of heroes that you're comfortable with. Then you need to master Dota 2's MMR and ranked system.
You don't need to worry though. We make things easier for you. In today's article, we will tell you everything you need to know about the Dota 2 ranks system. Let's take a detailed look at our article.
Actual from 01/17/2020
Valve:
"We removed the difference in MMR points from the game, which the user could gain or lose at the end of the match. This means that now the ladder will no longer have such situations when a player receives +10 MMR for a victory, and loses -40 MMR for a loss.
Instead of rewarding +25 MMR for winning, users will now receive +30 MMR in solo matchmaking, and +20 MMR in group matchmaking. We believe that in a single ladder you can better assess the qualities of a player, so we are ready to reward him with a large number of points.
We have removed fast and slow matchmaking, replacing them with classic matchmaking and search by roles. To gain access to the search by roles, you need to earn tokens. They will be given for matches in which users will choose all the roles at the same time.
In classic matchmaking, there will be no option to choose a role. We took this step after the fast and slow queues did not bring the desired result. It seems to us that the new system will be more fair to the players. If you want to take advantage of playing one role, you'll have to play other positions too. Otherwise, you can play classic matchmaking, in which there is no choice of roles at all.
Ranking table in Dota 2
After a player gets on the leaderboard from Vavle in Dota 2, he automatically gets the rank of «Titan». It is not limited by MMR, so it will not be possible to get a higher rank in Dota. Fans will be able to fight there for the first line of the 2023 rating table.
In update 7.33 for Dota 2, the developers have updated the rating system. Therefore, now players will receive a different amount of MMR for a victory, and not 25, as before. The figure will depend on the difference in the skill of the teams. How many MMR will be given out on average per game is still unknown.
Players now also have «Ranking Confidence» in their Dota profile. The more games played, the better the system can evaluate the skill and the correctness of the received user rating. You can read more about this in our material
.
New rating system in Dota 2: Gliсko in Dota and matchmaking on Titans
How the new rating works in Dota 2.
What are Dota 2 Ranks?
Dota 2 has an extremely complex ranking system. Beginners have a total of 8 ranks in front of them, from Herald to Immortal. At the same time, each rank has five sub-ranks. In short, we can say that there are 36 ranks in Dota 2, including the lower ranks. Each rank from the lowest to the highest reflects the MMR of the players. For example, there is a 150 MMR point difference between Herald 1 and Herald 2. Likewise, when players play a certain number of matches, they are placed in a rank according to their performance. Now let's take a look at the Dota 2 ranks one by one.
Herald – 0 to 616 MMR

It is the starting phase of the game. You may encounter extremely toxic players. But don't worry, you can get out of this rank quickly without wasting much time. All you have to do is focus on one or two heroes and play the same heroes all the time.
Herald I – 0 MMR
Herald I – 154 MMR
Herald III — 308 MMR
Herald IV — 462 MMR
Guardian – 770 to 1386 MMR

Guardian is one of the transition ranks in Dota. So most players don't get stuck here. It is a stage in which casual players generally take part. You can get out of here by specializing in one or two heroes, as you did in the Herald.
Guardian I – 770 MMR
Guardian II — 924 MMR
Guardian III — 1078 MMR
Guardian IV — 1232 MMR
Guardian V — 1386 MMR
Crusader – 1540 to 2156 MMR

Players with this Dota 2 MMR value are usually the ones who have devoted hundreds of hours to the game. And since most players specialize in a few heroes like you, you'll have the same skill set. In order to rise from the Crusader Rank, you must have set some small strategies for yourself.
Crusader I – 1540 MMR
Crusader II — 1694 MMR
Crusader III — 1848 MMR
Crusader IV — 2002 MMR
Crusader V — 2156 MMR
Archon – 2310 to 2926 MMR

Archon is the rank with the most players among Dota 2 Ranks. Frankly, we can call it a swamp. The multitude of toxic players can alienate you from the game. But don't be alarmed, focus on your personal performance. Because if you don't have your own teammates in this kind of stage, you have to shoulder the whole burden on your own. You can get out of this cluster by dominating the matches in the hero you specialize in.
Archon I – 2310 MMR
Archon II – 2464 MMR
Archon III – 2618 MMR
Archon IV – 2772 MMR
Archon V – 2926 MMR
Legend – 3080 to 3696 MMR

Legend I – 3080 MMR
Legend II – 3234 MMR
Legend III – 3388 MMR
Legend IV – 3542 MMR
Legend V – 3696 MMR
Ancient – 3850 to 4486 MMR

We can say that Ancient is perhaps the most important among Dota 2 ranks. Because Ancient has taken on the role of a transition stage for the ranks where the Elite group is located. You will probably waste a lot of time in Ancient. That's why you should try to find good teammates for yourself as much as possible. Because you can no longer carry the matches easily by yourself. Because of the Dota MMR system, you will encounter skillful games just like you.
Ancient I – 3850 MMR
Ancient II – 4004 MMR
Ancient III – 4158 MMR
Ancient IV – 4312 MMR
Ancient V – 4466 MMR
Divine – 4620 to 5420 MMR

Congratulations, you've stepped into the final part of the Dota Ranks system before the Top Tier. Fierce competition, thousands of hours of game time, flawless team games and many more details will suffice to explain the importance of this rank. Most players here are also considered Professional Esports players. The skill level is so high that it may take you years to get here.
Divine I – 4620 MMR
Divine II – 4820 MMR
Divine III – 5020 MMR
Divine IV – 5220 MMR
Divine V – 5420 MMR
Immortal

Dota 2's most legendary players are found in this rank. When we look at the Dota Rank distribution values of the players in this rank, we encounter a figure much less than 1.7%. In other words, it is an extremely limited and elite group. If you have managed to rise to the Immortal rank, you may find yourself in a popular Esport team.
Placed
Top 1000
Top 100
Top 10
Top 1
How Dota 2 Rank and MMR System Work?
There is a term we are used to hearing in Dota 2 and most other competitive games. The name of this term is MMR (Matchmaking Rating). In short, a secret MMR point is given to your performance in the matches you play to settle in Dota 2 ranks. With this MMR score, you will encounter players with the same skill as you in every match you enter in Dota. M MR is vital for fairer in-game matchmaking.
Dota 2 Ranked Match Unlock

As it is known, you cannot directly enter ranked matches that you need to play in order to be placed in the Dota 2 ranking system. This system is commonly found in most competitive online games. This key, which is an important detail of the Dota 2 rank system, is designed so that no player can start the rank without learning the game. So, let's take a step-by-step look at how you can open this lock.
So let's see how you can unlock this ranked match.
If you have just started Dota 2, you must have encountered a lock when you want to enter ranked. To unlock ranked matches, you first need to play Dota 2 for 100 hours. However, this playing time is not the same as the time on Steam. In order for the clock to progress, you need to actively play for 100 hours in any game mode in Dota.
In this way, you can understand the mechanics of the game in unranked matches before moving on to ranked matches. If we need to do a simple calculation for you, you need to score more than 100 unranked matches in total. If you get tired of playing unranked matches all the time, you can try Dota 2's turbo mode. It is extremely fun and you can easily fill your time.
Now let's say you have passed 100 hours. Finally, there is only one thing left to do. And that is to have your phone number verified via Steam. When you do this, you can now log into ranked matches.
After logging into Ranked matches, a new question mark will come to your mind. How many ranked matches will I get to Rank after playing in Dota 2? Let's answer this right away. You only need to play 10 ranked matches. After that, you will be placed in a rank according to your performance in the game. And your performance will be revealed by the joint calculation of your wins, losses and personal achievements.
How is Dota 2 MMR Calculated?

As with most competitive games, the MMR varies depending on the outcome of the matches you win and lose. However, more specific and detailed statistics are not important for calculating MMR. For example, achievements such as assists, kills and MVPs in a ranked match will never affect your MMR positively or negatively.
Although this rate changes with the updates in Dota 2, you will now earn between 20-30 MMR points for each match you win. While you get 20 MMR points in ranked matches that you play as a party, you usually get up to 30 points when you play alone.
Таблица рангов и ММР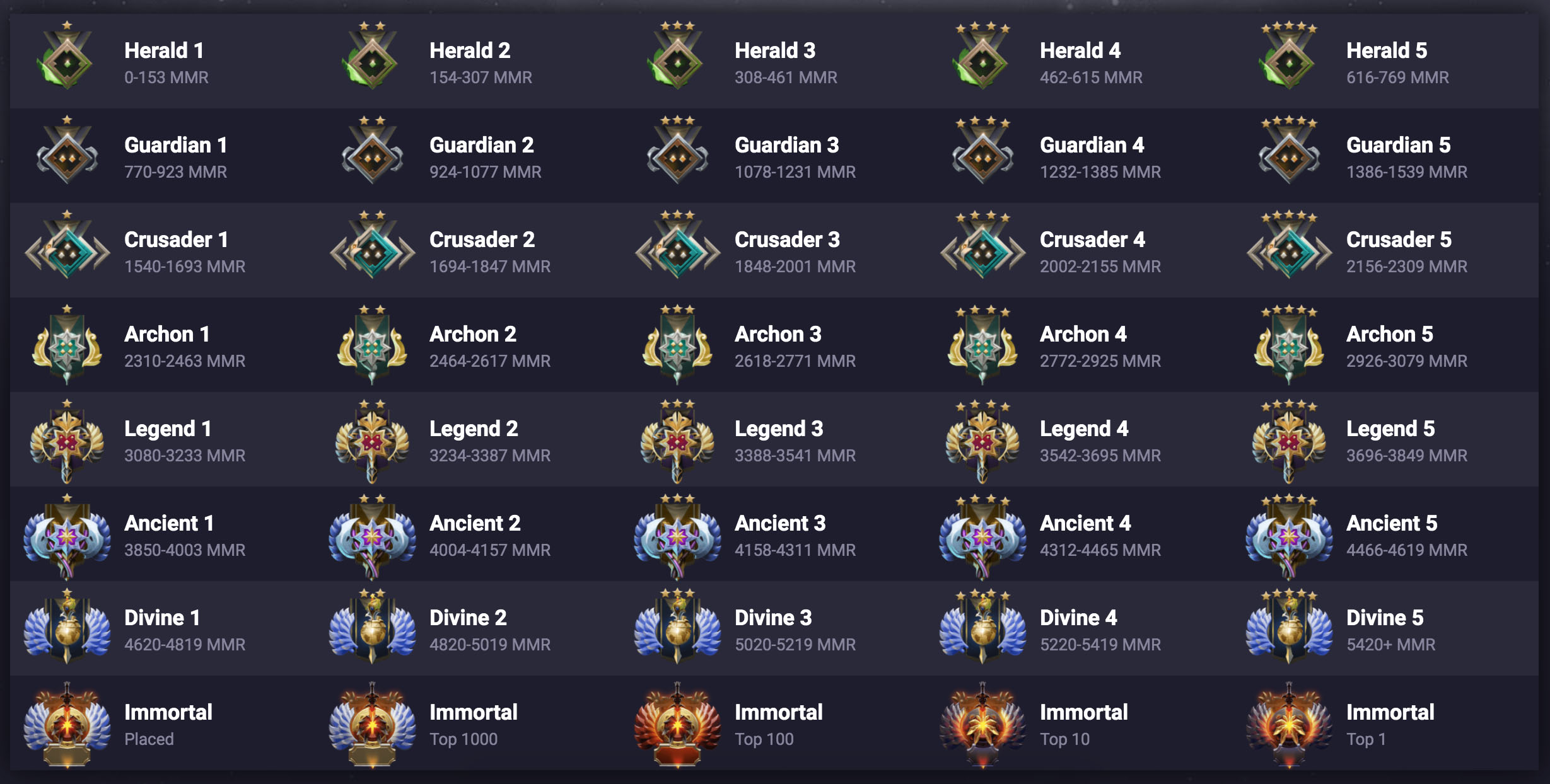 Таблица рейтинга ММР от ранга Дота 2 (новая в 2023 году)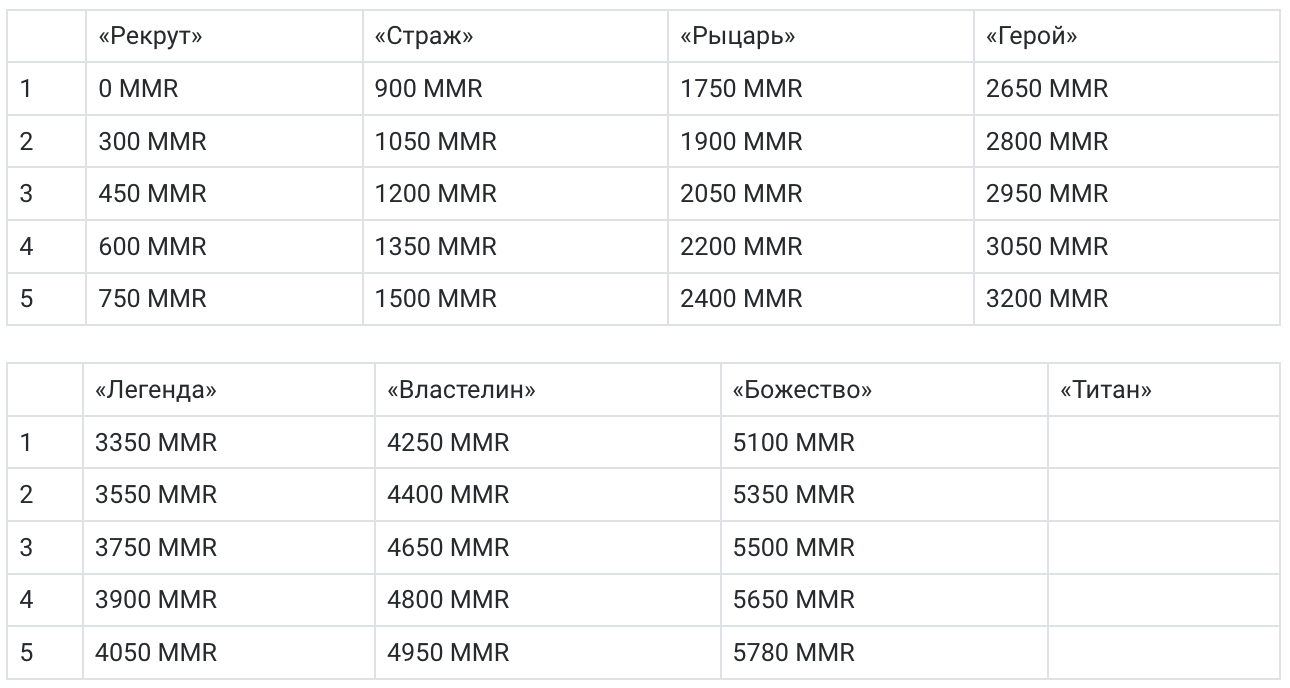 Всего в Dota 2 есть восемь рангов: «Рекрут» (Herald), «Страж» (Guardian), «Рыцарь» (Crusader), «Герой» (Archon), «Легенда» (Legend), «Властелин» (Ancient), «Божество» (Divine) и «Титан» (Immortal). Каждый из них делится в таблице рейтинга на пять частей. Точных данных о том, сколько MMR необходимо для повышения, нет, поэтому все цифры в таблице рейтинга приблизительные. Они отличаются из-за среднего уровня игроков в Dota 2. Также на новый рейтинг Дота 2 влияет «Уверенность в рейтинге».
В обновлении 7.33 для Dota 2 разработчики обновили рейтинговую систему. Поэтому теперь игроки будут получать разное количество MMR за победу, а не 25, как раньше. Цифра будет зависеть от разницы в скилле команд. Сколько MMR в среднем будут выдавать за игру, пока неизвестно.
Теперь у игроков в профиле «Доты» также появилась «Уверенность в рейтинге». Чем больше игр сыграно, тем лучше система может оценить скилл и правильность полученного рейтинга пользователя.

Количество игроков Дота 2 по рангам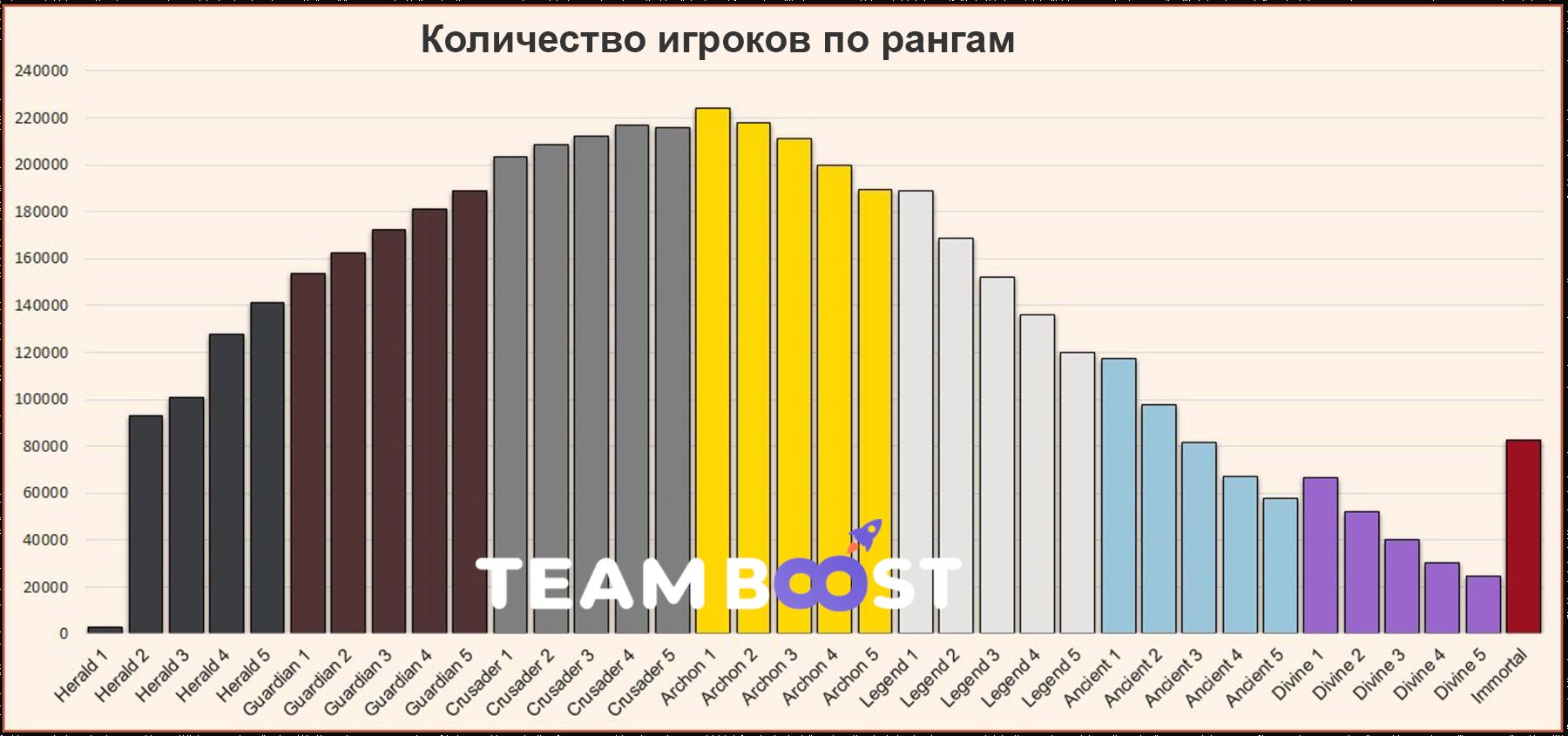 Ранжирование основано на данных миллионов игроков. В статистике учитывается ММР, данная аналитика не является официальными данными Valve, а базируется на открытых профилях игроков Dota 2.
Ниже две более детальные таблицы с рангами Дота 2 в процентах для core и support героев.

Например, видим напротив Ancient 5 цифру 95,81% -это значит что 95% игроков в Дота 2 имеют ранг ниже или такой же, а 4,29% оставшихся игроков — это Divine и Immoral.
Core герои, распределение процентов по рангам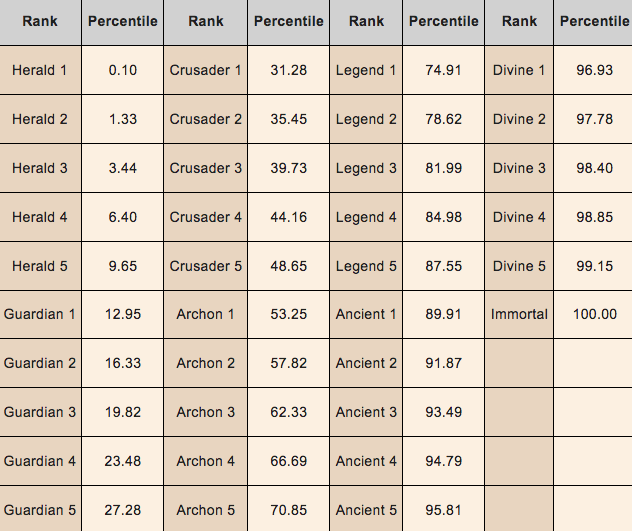 Support герои, распределение процентов по рангам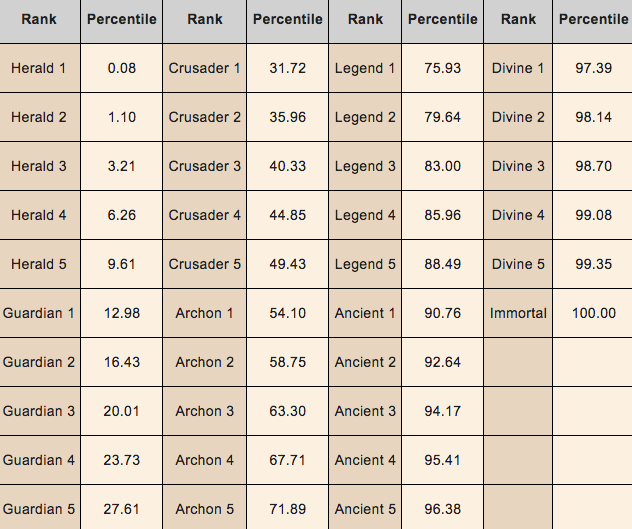 Краткое описание данных (на основе ММР):
согласно полученным данным, среднестатистический игрок — это Рыцарь 5, в то время как Легендой 1 являются менее 75% дотеров;
лишь малое количество игроков достигло высших званий, причем существует огромная разница в игровом навыке между людьми одного звания с разным количеством звезд;
лишь 11% дотеров являются Ancient 1 или Immortal, а звание «Божество» носят только 3% коммьюнити. Игроки высокого ранга зачастую жалуются на матчмейкинг, но, учитывая то, что менее 97% игроков имеют ранг «Divine», подобрать соответствующих противников трудно, даже при том, что серверов несколько;
только 0,8% дотеров имеют ранг выше Божественного 5! PRO-игроки — отдельная элитная каста, и неудивительно, что они попадают в огромные очереди при подборе игры.
Выбирайте бустера для калибровке на нашей бирже Teamboost !
Лучшие бустеры по калибровке в апреле:

Dota 2 Rank Distribution – Season 5, 2022
With February 2022, Dota 2's rank and MMR distribution information
for the last season has been updated. There are no official statistics from Valve for the rank distribution in Dota 2. However, it is possible to access this data through Esporttales, which does some community work.
In short, Dota 2 MMR distribution is a statistical tool that shows the percentile of your rank in the game. For example, you belong to the rank of Immortal. And if you want to understand what percent of the Dota 2 community you belong to, the table below will help you.
Other Details
When we look at the statistics in detail, only a small part of Dota 2 players managed to reach the high skill group. In addition, the Rank with the most players appears to be Archon 1 and 2.
Considering the MMR distribution of Dota players in Divine Rank, it only covers a 5% player base. Considering that the Divine rank is spread across different servers, it will be extremely difficult to gather people with similar skill levels.
Likewise, those with a rank higher than Divine 5 appear to be a restricted elite group. They are probably waiting for a long time to find a match in ranked matches. Because of this, they are forced to enter matches with players who are probably much less skilled than themselves.