There are a lot of online trading platforms that promise to offer the best services. Choosing the right platform from all the options can be a bit overwhelming, but hopefully, with our help, things will be a little easier. If you are on the fence about LootFarm, you are at the right place. Continue reading this LootFarm review to figure out if it is the right platform for you

Here is a list of some of the best and worst of what LootFarm has to offer:
About LootFarm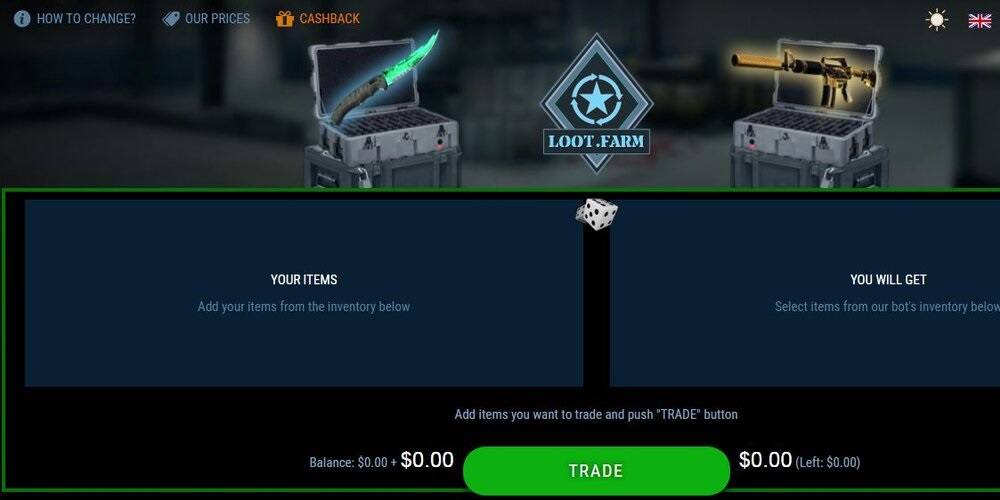 Our LootFarm Review
There are several things that LootFarm does right to set itself apart from the competition. Firstly, they have an extensive lineup of premium skins. You can find some of the rarest knife and weapon skins at LootFarm, with several options worth tens of thousands of dollars. The best part is that all these are easy to find thanks to a smooth and well-designed UI and search feature.
We love the cashback feature offered at LootFarm. Everyone that makes a trade has a 10% chance of getting a cashback. While the cashback is one percent, which doesn't seem like much, it can add up if you use the service regularly.
Other positives include the added language options and the multiple games supported. However, the site is not perfect. Firstly, the pricing is not always the best compared to Steam listings. While pricing is fair for the most part, you can find some options listed for better prices on Steam. Plus, the support system is a little dated. We would have preferred a live chat service.
Concluding this LootFarm review, it is an OK option for anyone looking to trade their CSGO, Dota 2, Rust, or Team Fortress 2 in-game items or skins. However, we feel that you can find better options.
Loot Farm Key Features
Easy Steam login feature.
The platform offers items for multiple games like Dota 2, Rust, Team Fortress 2, and CSGO.
Plenty of secure payment options.
A trusted service with over 35 million trades made.
The site offers an attractive cashback incentive.
Varied but fair prices.
Commission fee of 0-10% depending on the product sold.
Claim LootFarm Free Bonus
Go to LootFarm using our link.
Register an account.
Enjoy your free bonus!
LootFarm Alternatives

Buy, trade, and sell on the go, with the mobile app
Tested & Verified
This website was anonymously tested by our team of gamers and we faced no issues with them.

Get 35% bonus for top up balance

Top up your balance with a +30% bonus for free

Quickly and easily buy, sell, trade, and swap items
Frequently Asked Questions
LootFarm is a long-established trading website that allows you to trade in-game items or skins for games like CSGO, Dota 2, and more.
✔️Is LootFarm Legit?
Yes, LootFarm is a legit service. We used the site ourselves and tried making some trades. Everything worked flawlessly, without any issues in the trading process.
✔️Is LootFarm Trustworthy?
Yes, LootFarm is a trustworthy service. We had no trouble trading with our skins. In-game items got safely transferred to our Steam inventories once we were done trading.