Last modified: 22:19, 17.08.2023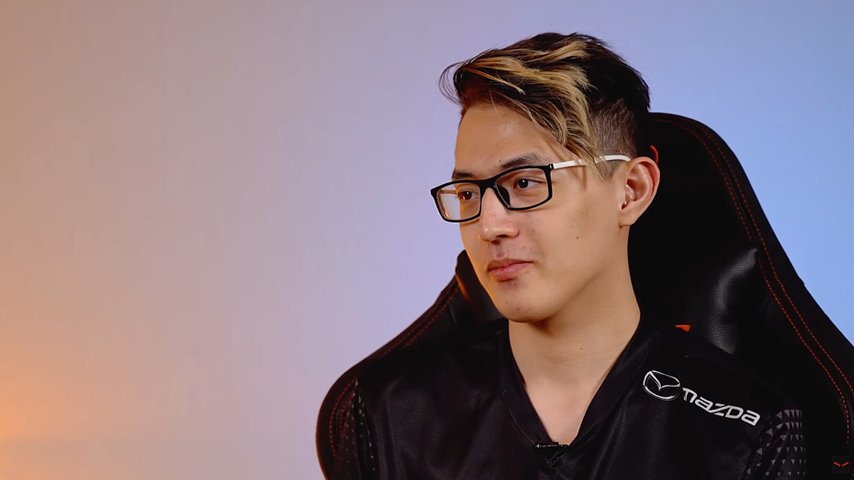 Alimzhan «Watson» Islambekov, player of the Entity roster, on his stream named the best heroes to increase the rating in Dota 2.
Best heroes for up MMR? Naga Siren is not very good. Slark, Templar Assassin, Meepo. Here on Meepo learn — birds will go.
Watson currently ranks first on the MMR leaderboard among players in the European Region.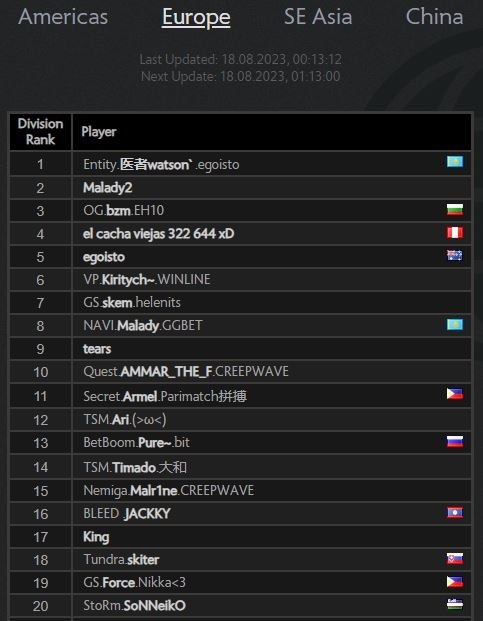 The International 2023 — China Qualifier
European Pro League Season 11
The International 2023 — North America Qualifier
SAND KING GÓMEZ
EPL World AM S6
Dota 2 Space League
ZEUS THUNDER GOD
Ultras Dota Pro League Season 21
Rabbits of Revenge
Professional
HellRaisers Dota 2 roster player Alimzhan watson Islambekov specially
for Cybersport. Metaratings.ru shared
opinion on the team's performance in the 2022 DPC season, rated the result as
qualifiers for The International, and also told what esports discipline
popular now in Kazakhstan.
— According to Dota2ProTracker statistics, you
played only two matches this week. Why don't you show now
activity in matchmaking?
— I had a midterm control at the university, and from Monday to
Friday I went there. I got up at 8 in the morning and drove, came home at two o'clock
or three, just ate and went to bed exhausted. Then I woke up at 8 o'clock
evening and there was no desire to play DotA at all. That's why I only played
weekends when there were no couples. Now I have passed the first milestone and decided for myself that
I'd rather work on my form, start playing and not go to university.
Started playing 6+ games on smurf and main.
— Like
Is the off-season coming up for you? How do you use the break
competitive seasons?
— I felt that I needed to rest after the elimination from the qualifiers, I wanted to
to fly somewhere, but it didn't work out because of my studies. I just went to uni
and played a little.
— In which
University are you studying now? What specialty are you studying?
— Karaganda Technical University, specialty «Automation and Control». I'm in my fourth year.
— B
At the end of 2021, the HellRaisers organization said goodbye to the elite roster. In it
At the same time, the current roster was signed. How did management get to you?
organizations?
— I played with NoFear in B8 Esports, I decided on my own
leave the organization, just sat and waited for offers. Alexander wrote to me
Aldar (Jamba, interim CEO of HellRaisers), that's how I ended up in
HellRaisers.
— What
qualities attracted the HellRaisers management in you? Why did the organization want
cooperate with you?
— I liked the speech of Aldar and Masha, as well as the conditions they offered. I think I was chosen because I had a high rank and I did well in B8.
— For
for the first six months, your team won two D2CL seasons and advanced to the regional
Season 1 DPC Finale. What was the most memorable victory during that period?
— The second win at D2CL was the most memorable when we lost 0-2 and cameback against Entity Gaming. Well, the first DPC victory against Virtus.pro was also memorable.
— If only
the roster in that form went to the major, what level could he show at it?
— I think we would be able to get into the top 6 of the Major.
— Stupor
in the spring part of the competitive season led to the drawing of the second season of the DPC
in the playoff format. HellRaisers eventually relegated to the second division. Which
factors that influenced this result? What was the atmosphere like inside the train then?
— Nobody knew about this playoff, and we decided not to train. Some did not play Dota2 and had a rest, including me, and when the playoffs were announced, we simply did not have time to prepare, were in bad shape and flew out.
— In the third season of the DPC, the team confidently advanced from the first place to the major league of Eastern Europe, and you finished the tournament with an average KDA of 13.1. What conclusions did you draw after the failure in the second season? Is confident play in the second division the result of work on mistakes or superiority in class over rivals?
— We changed the player and refreshed a bit, we got together for
bootcamp and practiced a lot. We played 4-6 quarters a day and public. Well, the commands
were a little lower level than we played before.
— Like
line-up before the start of the regional qualification for The International regarded
their strength in the fight against competitors?
— We were sure that we could easily leave the first place, we
trained well on the square against tier-1 teams, the bootcamp was already
with a coach (he was not on the first one).
— Before
MieRo joined HellRaisers at the beginning of the games. What new things could he bring to
the game of your squad?
— He brought some new characters, new ideas. It was easy for everyone to contact him. I've known him for 5 years already, we always sat in Discord before, when we hadn't played competitive yet.
— B
match against Natus Vincere, I got the impression that your team is capable of
beat the top 3 opponents in the region and qualify for a trip to Singapore.
The victory of Natus Vincere or the defeat of HellRaisers is a consequence of weakness
«born to win» or good preparation on your part?
– I think we prepared well for this series. On the second map
there were some disputes, of course, but in the first everything is perfect, and in the third draft was
us unrealistically strong. I just played the most disgusting, and because of this we
fell into the lower net.
— If
if in a series against the Ukrainian team you managed to win, could
HellRaisers get into the top 3 qualifiers?
— I think we would have easily passed into the top 3 if
won Natus Vincere. current
We consider the result of the qualifications to be unsatisfactory.
— Despite
for an unsatisfactory result in the qualifications, the squad was left without
changes. What conclusions did the team come to after them? Is it possible now
work on bugs?
— I still don't know if the line-up will remain or not. We are not
we are training now.
— Who are you
considered a favorite before the start of The International 11?
— From Last Chance, the top 3 were for me: Team Liquid, Team Secret and Xtreme Gaming. And the favorite of The International 11 itself was PSG for me. LGD.
— What
Were the teams able to pleasantly surprise you? Who do you think is the main one?
disappointing tournament in Singapore?
– Surprised by Team Secret and Tundra Esports. The disappointment for me was PSG. LGD.
— On
There are four teams left in the tournament. Who do you think will be able to conquer the Aegis?
Why?
– I support skiter, he is mine
he watches streams and roflits in the chat.
— A little bit
Let's digress from the last competitive season. Came from your home country
there are many talented Dota 2 players. How is esports developing in the country now?
– Slowly developing, but more in CS:GO than in Dota 2. Tournaments, student championships and so on are held.
— Now
in Russia, the trend of scouts has shifted from computer clubs to watching games from
matchmaking. In the countries of Central Asia, computer clubs are still relevant.
How do young talents from Kazakhstan make their way into esports?
— I personally never went to computer clubs to play
Dota 2. I think everyone has a computer at home now, people just play and
raise the rating.
— You
started his professional career with compatriots in Khan. How are you
Do you think it's easier to play with teammates from one country than in a multinational one?
composition?
— When I play with the Kazakhs, there may be jokes that not everyone will understand, but it's the same.
— The success of Kazakhs in CS:GO is much higher compared to representatives from Dota 2. Does this factor affect the popularity of games in the country?
– Yes, in Kazakhstan
play more CS:GO.
— If
if you received an invitation from any organization with the option of collecting Kazakh
Dota 2 roster, who would you take to your team?
— I would take Malik in third position, because he is tough. For five
Malady because he is a genius. To the mid TA2000, because he has a high rank and
4 melvin is my bro since childhood.
— For the first time
you were known for playing for B8 Esports. What spirit are you in now
Do you remember the games for this organization?
— Good memories, I learned a lot every day, the first
Bootcamp is good, salary and so on.
— Here
you played with Dendi. There are different opinions about Daniel. Describe it
please as a person. What is the difference between Dendi in the game and Danil in real life?
— In life, he is a very kind and open person, it was easy with him
contact, in the game it was a little unusual for me, because then I was very
talked little and just listened to him and NoFear. They usually had arguments.
— In B8, you began to communicate closely with NoFear, with
who later collaborated with HellRaisers. What advice from Alexander to you
useful during your professional career?
— He told me that
I'm a genius, but you have to be confident and lead the team.
— More
a year ago you prioritized top 1 on the European leaderboard over playing
competitive. Playing at a professional level allowed you to improve your skills
in solo matchmaking?
— Yes, thanks to the scrims against tier-1 teams and the officials, it became easier
play public games, started to read a lot in the matchmaking of players, as well as
began to use voice more and say what to do, because not everyone is in public
know what to do.
— Kiritych
Recently, in an interview with our site, he stated that it is important for a carry and a mid player to have
high rank for confidence. How is the top 1 title displayed on your gaming
form?
— The number is beautiful, of course, but you can't stop there. You can always do something better.
— B
In March, Timado actively watched your publics and took information from there for himself. Behind
Who are you watching the most right now?
— I don't follow Ame a lot
followed, mostly only him.
— Recently
you had a conflict in public with Ammar ATF. Have you been able to
settle? How do you deal with this kind of behavior from other players in
matchmaking?
— Yes, I did not even consider it a conflict. We are just
roflim against each other every public, we are each other's friends on steam and in
public, and always roflim on square.
— Now
you and your teammate Malady are in first and second place on the European leaderboard
respectively. Do you have local competition for the highest
rating line?
— Yes, she was, but not now. Before that, when I apal top 1
rank, he started to play public and overtook me, and then stopped. Then I him
caught up, and he again played one game and overtook me. So they played one or two
public per day.
— Like meta
patch 7.32 affects your playstyle in the game?
— Personally, it seems to me that I can play both very greedily and
very active. So, I think the patch does not affect me much.
— What
heroes in your position do you rate in this patch?
— I really like Morphling, Slark and Shadow Fiend now.
— Finally, what would you like to say to readers
cybersport. Metaratings.ru?
— Thanks to everyone who supports me, I am all this
appreciate!